Can Quercetin, Zinc, Vitamin C and Vitamin D help Against Coronavirus?
There are just too many self-proclaimed medical experts recommending all kinds of supplements for COVID-19 out there. Do they actually work? Some supplements do have evidence and some don't. This guide can help you make sense of the options and to separate the facts from fiction.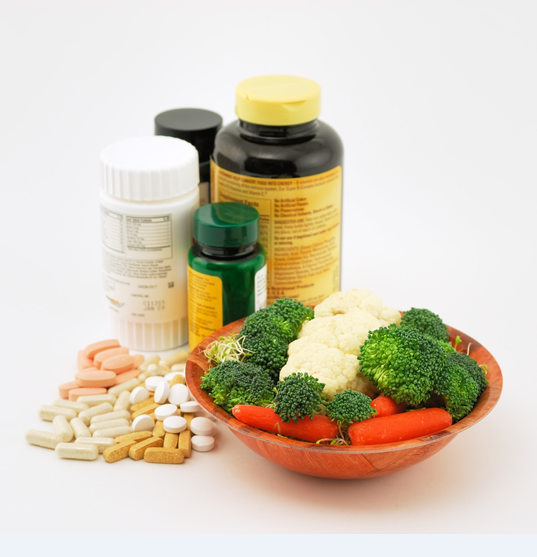 Of course, the most important thing you can do to avoid infection with coronavirus is to prevent exposure by following the latest recommendations of the
CDC
and
World Health Organization
and take steps to stay healthy, including getting adequate sleep and exercise and eating a healthful diet that includes adequate (but not excessive) intakes of essential nutrients, such as vitamins C and D. Also take steps to control hypertension and blood sugar fluctuations with diabetes, as these conditions are associated with more severe disease if infected.
Can Supplements help against COVID-19?
Research has shown that supplementing with certain vitamins, minerals and other substances can improve immune response and potentially protect against illness.
However, note that some supplements can interact with prescription or over-the-counter medications you're taking. Some may not be appropriate for people with certain health conditions. If you are on medications, be sure to talk with your doctor before starting any supplements.
Can Quercetin, Vitamin C, Vitamin D and Zinc help Against Coronavirus?
We have searched through electronic databases which included PubMed.gov and ClinicalTrials.gov in order to compile and organize the relevant information related to supplements and COVID-19.
Here's the evidence.
1. Vitamin D and COVID-19
Can vitamin D help against COVID-19? In recent weeks and months, several publications and studies have suggested that maintaining adequate levels of vitamin D would seem potentially beneficial in fighting the COVID-19 infection.

The statement released on 2 October by the U.S. president's physician said that in addition to the antibodies, Trump "has been taking zinc, vitamin D, famotidine, melatonin and a daily aspirin."
Several publications and studies have suggested that maintaining adequate levels of vitamin D would seem potentially beneficial in fighting the COVID-19 infection.
A recent study, published in JAMA (
JAMA Netw Open. 2020
) found that persons who are likely to have deficient vitamin D levels at the time of COVID-19 testing were at substantially higher risk of testing positive for COVID-19 than were persons who were likely to have sufficient levels.
A preprinted study published in June 2020 from Singapore (
CW Tan, MedRxiv 2020
), among 43 patients age 50 or older who were hospitalised with COVID-19, found that those who were started on a daily oral dose of vitamin D3 (1,000 IU), magnesium (150 mg) and vitamin B12 (500 mcg) within the first day of hospitalisation and continued up to 14 days were significantly less likely to require oxygen therapy and further intensive care.
According to an editorial review (
Aliment Pharmacol Ther. 2020
) published in June 2020 by Irish researchers, people with vitamin D deficiency appear to be far more prone to severe COVID-19 infections.
The epidemiology of COVID-19 provides evidence that vitamin D might be helpful in reducing risk associated with COVID-19 deaths. A May 6, 2020, report published in
Aging Clinical and Experimental Research
(its prepublication featured in the Daily Mail) found that countries with lower vitamin D levels also have higher mortality rates from COVID-19.
Another May 6, 2020 report (
Nutrients. 2020
) in the journal Nutrients pointed out that vitamin D concentrations are lower in patients with positive PCR (polymerase chain reaction) tests for SARS-CoV-2. As noted in this report, which retrospectively investigated the vitamin D levels obtained from a cohort of patients in Switzerland.
The Irish Longitudinal Study on Ageing (
TILDA
) published in April 2020, suggested that vitamin D deficiency could have serious implications for COVID-19. Results from the Irish Longitudinal Study on Ageing (TILDA), showed that vitamin D plays a critical role in preventing respiratory infections, reducing antibiotic use, and boosting the immune system response to infections.
Another study, published in the journal
Nutrients
(April 2, 2020), carries the telling title, "Evidence That Vitamin D Supplementation Could Reduce Risk of Influenza and COVID-19 Infections and Death."
Mark Alipio with GrassrootsHealth conducted a retrospective
multicenter study
involving 212 patients in Southeast Asia who had COVID-19. He too found a strong correlation between vitamin D levels and disease severity. Those with the mildest disease had the highest vitamin D levels, and vice versa.
A preprinted study published in May 2020, looked at Vitamin D levels and inflammatory markers in hospitalized COVID-19 patients in Germany, South Korea (S. Korea), China (Hubei), Switzerland, Iran, UK, US, France, Spain, Italy (
Daneshkhah, MedRxiv 2020
). Patients with the lowest Vitamin D levels were about 15% more likely to get severe COVID-19 and cytokine storm. Vitamin D3 plays a role in inhibiting the cytokine storm that causes viral infections to become lethal.
In a May 18, 2020,
letter
to the Federal Chancellor of Germany, Angela Merkel; Bernd Glauner and Lorenz Borsche highlight these and
other studies
and ask whether a nationwide supply of vitamin D has been considered in Germany.
While large controlled studies demonstrating vitamin D's effectiveness in COVID-19 are still lacking, there are many such studies underway. You can review the status of these trials on
clinicaltrials.gov
. As of September 2020, more than 25 studies have been launched to investigate the benefits of vitamin D against COVID-19.
Buy Online: You can purchase Vitamin D as a dietary supplement online and from local health stores i.e. Guardian and Watson.
Do take note that you can also get good amounts of vitamins C and D, zinc, and other essential vitamins and minerals from a basic multivitamin.
2. Vitamin C and COVID-19
Most people turn to vitamin C after they've caught a cold. Because your body doesn't produce or store it, you need daily vitamin C for continued health. Almost all citrus fruits are high in vitamin C.
Vitamin C appears to be able to both prevent and treat respiratory and systemic infections by enhancing various immune cell functions. Prophylactic prevention of infection requires dietary vitamin C intakes that provide at least adequate, if not saturating plasma levels (i.e., 100–200 mg/day), which optimize cell and tissue levels. In contrast, treatment of established infections requires significantly higher (gram) doses of the vitamin to compensate for the increased metabolic demand. (
PubMed
).
A large review of 29 studies in 11,306 people demonstrated that regularly supplementing with vitamin C at an average dose of 1–2 grams per day reduced the duration of colds by 8% in adults and 14% in children (
PubMed
).
Interestingly, the review also demonstrated that regularly taking vitamin C supplements reduced common cold occurrence in individuals under high physical stress, including marathon runners and soldiers, by up to 50% (
PubMed
,
PubMed
).
Additionally, high dose intravenous vitamin C treatment has been shown to significantly improve symptoms in people with severe infections, including sepsis and acute respiratory distress syndrome (ARDS) resulting from viral infections (
PubMed
,
PubMed
).
However, note that taking large doses of vitamin C (ascorbic acid) on a regular basis lowers your level of copper, so if you are already deficient in copper and take high doses of vitamin C, you can compromise your immune system.
While large controlled studies demonstrating vitamin C's effectiveness in COVID-19 are still lacking, there are many such studies underway. You can review the status of these trials on
clinicaltrials.gov
. As of July 2020, more than 25 studies have been launched to investigate the benefits of vitamin C against COVID-19.
Time will tell what the outcome will be.
For a more comprehensive review on Vitamin C and Coronavirus, check out
Vitamin C and COVID-19: An Updated Review
.
Related: 10 Best Vitamin C Supplements in Malaysia
3. Zinc and COVID-19
Numerous studies reveal that zinc supplements may protect against respiratory tract infections like the common cold (
PubMed
,
PubMed
). Zinc has also been shown in a lab study to inhibit regular coronavirus (not the current SARS-CoV-2) in a
2010 publication
.
What's more, supplementing with zinc may be beneficial for those who are already sick.
In a 2019 study in 64 hospitalized children with acute lower respiratory tract infections (ALRTIs), taking 30 mg of zinc per day decreased the total duration of infection and the duration of the hospital stay by an average of 2 days, compared with a placebo group (
PubMed
).
Supplemental zinc may also help reduce the duration of the common cold (
PubMed
).
Taking zinc long term is typically safe for healthy adults, as long as the daily dose is under the set upper limit of 40 mg of elemental zinc (
PubMed
)
.
Excessive doses may interfere with copper absorption, which could compromise your immune system.
You can purchase Zinc as a dietary supplement online and from local health stores i.e. Guardian and Watsons.
4. Quercetin
A
study
published in 2020 by the University of Tennessee and Oak Ridge National Labs used the most powerful IBM supercomputer to model which FDA approved compounds or supplements might interfere with the coronavirus binding to cells. To review, the coronavirus uses the ACE 2 (Angiotensin Converting Enzyme) receptor to enter cells. Once in a cell, the coronavirus virus empties its RNA contents and hijacks the cell to start producing more viruses. So preventing the coronavirus from binding to the ACE 2 receptor is a good thing as it means the virus can't get into your cells. The study modeled various compounds and at number 5 on the list as those that has the potential to block the virus was Quercetin.
A
2004 study
showed that Quercetin blocked the entry of another SARS coronavirus into cells. A 2012 study basically concluded the same thing (
PubMed
). This coronavirus is called SARS-CoV-2 and is different from the others in its family. So has Quercetin been shown to do anything that prevents this novel virus from entering cells? A
lab study in 2020
that has yet to be peer-reviewed, demonstrated that Quercetin and other compounds showed promise in blocking the SARS-CoV-2 novel coronavirus from entering cells.
You can purchase Quercetin as a dietary supplement online at Lazada Malaysia.
Wrap-Up
Do we have large randomised controlled trials to prove that the right supplement/s can combat COVID-19. Not at the moment. The only real defence against COVID-19 is your own immune system, which works best when fed right. What have you got to lose? As long as you are taking the supplements under medical supervision and within a safe range, the risk is low but the potential benefit is high?
Please take note that the dosages for micronutrients or vitamins are higher for treatment as opposed to maintenance. This is probably due to higher demand or the deficiency of the micronutrients are worse during a complicated viral infection. However, for prevention or maintenance, the dosages for most of the micronutrients are much lower.
Aside from supplements, there are other ways that may help improve immune response and to prevent you from catching the coronavirus.
Wear protective face mask. This is to protect not only yourself but others.
Abundant evidence suggests that eating whole in fruits, vegetables and whole grains—all rich in networks of naturally occurring antioxidants and their helper molecules—provides protection against free radicals.
Getting Enough Sleep
Avoid Sugar
Don't smoke.
Take steps to avoid infection, such as washing your hands frequently and cooking meats thoroughly.
Try to minimize stress.
Drink enough water to keep your body hydrated.
Avoid excess alcohol.
Regular physical activity (outdoor activities may not be allowed in countries with 'lock-down').

Alert
For those with a weakened immune system, existing heart or lung problem and the elderly, please see your doctor immediately if you suspect that you have been infected by the Coronavirus. If you have high blood pressure, please make sure that your blood pressure is well controlled, as the fever will likely to increase the blood pressure, raising your probability of getting a heart attack or a stroke.
References: